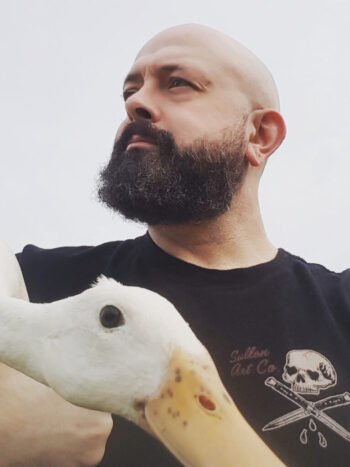 Following more years than I care to remember as a body piercer, archaeological excavator and anthropological researcher I came late into tattooing. I had always loved drawing and artwork especially intricate detailed pieces such as Celtic and historical designs. When I was 19 years young and in the first year of an Art and Design course I found work as an illustrator for an archaeological company. The detailed dot-work style of drawing archaeological artefacts was a style that I really enjoyed and later drew upon as inspiration for my tattoo designs.
Skip forward several years working in archaeology, outdoor pursuits and 9 years at Maynooth University completing a Degree and eventually a PhD I found myself looking for a new challenge and took up tattooing.
I began learning the craft with simple but decorative tattoo designs and also practised traditional hand poked tattoos as a way to appreciate the art of putting ink on skin. Although I enjoy doing dot work tattoos and geometric patterns I also love black n grey, floral designs and pieces with art deco inspired curving lines and vivid colour.
Getting a tattoo is more than just a fashion statement; it's a ritual that goes back to the dawn of human history. Therefore I think it's essential to really listen to the client and make every tattoo session something special.
Piercing
I began a piercing apprenticeship at the age of 16 in one of Dublin's first piercing studios. It was a great learning curve and the shop helped to pioneer many hygiene practices that are industry standard today.
At one point I had over 60 piercings on my body and then saw sense and eased back a bit. These days when it comes to body piercings I think quality over quantity is the way to go. I like to show all of the options to curious clients in order to give them the best advice on jewelry and piercing placement.
As I have seen many trends come and go with piercings I know what works and what will cause problems further on, so I am always extremely careful to make sure a piercing is in the right place and has the best chance to heal.
Book A Consultation with Doc Dave